"Fashion must live with the times if it wants to survive". This sentence of Karl Lagerfeld was pronounced two years ago, during his traditional Channel fashion show at the Grand Palais, and was justified because the structures of his pieces were made in 3D printing, via laser sintering. And, even if at the time it could be smiled at, today the technology is more and more used in the textile sector. Let's take a look at some of the existing cases, or when 3D printing makes its way into our dressing room...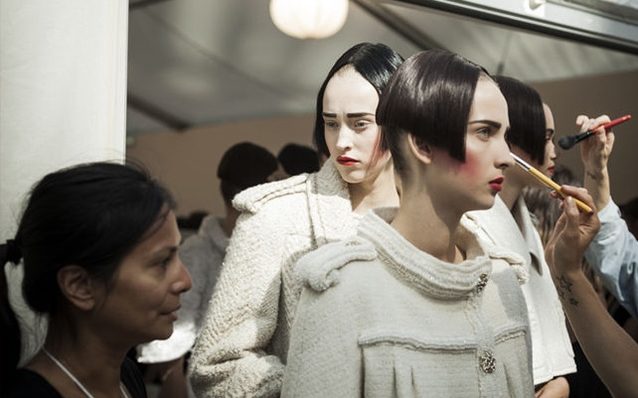 Behind the scenes of the Chanel 2015-2016 fashion show with Haute couture in 3D Printing [Ed Alcock / Jérémie Léon / Myop pour Le Monde]
Ready-to-wear and Haute Couture
Without us realizing it, details, and even entire pieces, made in 3D printing, are starting to take over our wardrobes. Among others, we can mention the Israeli designer Danit Peleg, who recently presented her first piece, a jacket, entirely made in 3D printing. The latter is totally self-taught in learning this technology. More subtle, Irina Tosheva, a Macedonian designer, has added 3D printed details to her collection (inspired by her country's iconic finery).
While ready-to-wear has embraced the technology, it's clear that Haute Couture has also incorporated it into its runway shows. For example, as mentioned, Karl Lagerfeld has combined additive manufacturing with couture to create more complex designs and dust off certain styles. But he wasn't the only one. In fact, Iris Van Herpen is using the technology to bring her designs to life and disrupt the industry. She was the first to feature 3D printing in the textile industry in 2011 when she presented her "Voltage" collection at Paris Fashion Week. A pioneer, she passed the idea on to other big names such as Alexander McQueen.
The shoes
The footwear sector is not left behind, thanks to Adidas and its 3D printed sole on the Futurecraft 4D sneaker. The latter appears to be the first mass-produced sneaker to use this technology. However, the sole will not only be made in 3D printing but will be combined with UV light to obtain a more solid and therefore more durable result. This sneaker will be the second attempt for the German brand. Indeed, in 2016, theUltraBOOST Uncaged Parley had already made news by using 3D technology in its production.
But the city shoe has also managed to integrate 3D printing. We think in particular of the brand United Nude or the designer Brian Oknyasnky. Both have designed shoe models entirely made in 3D and infinitely customizable.
In France, Eram launched at Paris Retail Week 2016 heels that can be endlessly accessorized using 3D printing. 500 combinations are now available. The concept was presented and offered at the beginning of July in one of their stores in Nantes and was a great success.
The accessories
Regarding accessories, 3D printing allows to create more and more extraordinary and customized things: handbags, jewelry, bow ties, and even makeup!
Maison 203 Studio, for example, specializes in making accessories via 3D printing. In 2015, the brand released a 3D printed handbag made from nylon, the " Armure Clutch ".
3D PROD has already participated in the creation of jewelry for the Camen brand. The choice of 3D technology was strategic for Camen. Indeed, 3D printing allows the development, creation and real-time monitoring of the "object".
Similarly, Brazilian architecture firm Estudio Guto Requena creates original and unique pendants using 3D technology.
Smaller accessories are also now made in 3D, like Bits Tailor, a French start-up that uses 3D printing to create fully customizable pieces. Bow ties, shoe jewelry, everything is printed once on a traditional desktop printer, then in metal for the finished piece.
But the most surprising thing is the use of the technology for cosmetics. Indeed, it seems amazing that 3D printing can serve this very particular sector. In 2014 was unveiled Mink, a small 3D printer, allowing to create all types of makeup (from lipstick to foundation). It can color any substance (powder or cream) colorless in the shade that the user wants. It is also possible to cite the example of these two young American women who used 3D printing to design fake 3D resin nails (based on nylon).
The limits of technology for the sector
The use of 3D printing still has some limitations to really revolutionize the sector. Indeed, the major problem comes from the materials: if we are today able to add layers of plastic or resin, it is still impossible to use materials such as cotton or silk, which are just essential in an industry such as textiles.
The second limitation is the manufacturing time. Indeed, creating an object by layers does not take the same time as making it come out of a mold created especially for it. The use of 3D technology is therefore more suitable for the design of small series than for the creation of large-scale products. This, intrinsically, leads to high prices.
Thus, the road to a productive apparatus capable of mass-producing low-cost personalized clothing, shoes or accessories on demand will still be long, but not impossible.