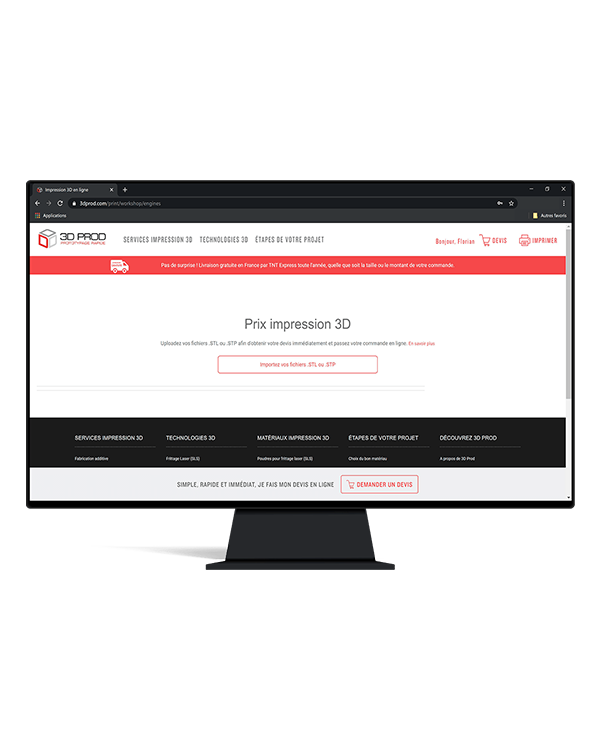 Make your estimates
on line
Our quote page allows you to immediately obtain the price of the part you wish to 3D print.
Simply import your 3D files, choose the materials, the finishes you want to add, log in and you're done. Our online module also allows you to make changes and immediately see the impact on the price.
No surprise, since delivery is free in France by TNT Express all year round, whatever the amount or size of your order. If you want your piece to arrive before 12:00, then you always have the possibility to pay a supplement.
You have uploaded your room?
You have chosen the right materials and finishes?
Then you can easily go to the next step andorder your part!
Our 3D printing lead times are normally 5-7 days, but may vary depending on the load of our machines.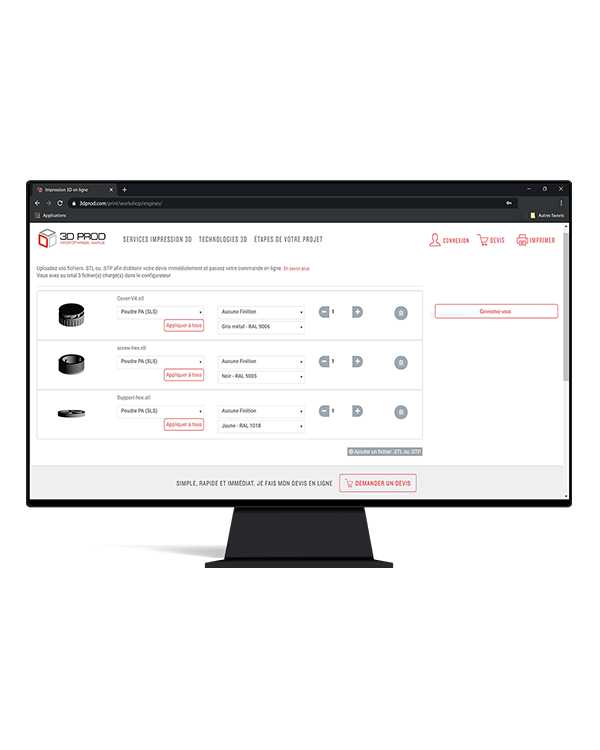 Understanding the price
of a 3D printing
The price of your 3D printing depends on several factors: the volume of the object, its size, the human work (which varies especially for more or less advanced finishes) and the material used.
The material you choose has a big influence on the price, as each material has a different cost. In addition, the amount of material also affects the price. That's why we recommend that you hollow out your parts before uploading them to our order module: less material used, therefore lower cost for your 3D printing.
The footprint is the space that your part will take on the machine. We optimize it to the maximum according to the specificities of each technology.
We offer different finishes on your parts: sanding, priming, painting, resin. These finishing touches require a human action, they will have a cost according to the time spent. Of course, you can also keep your raw parts, they are of as good quality!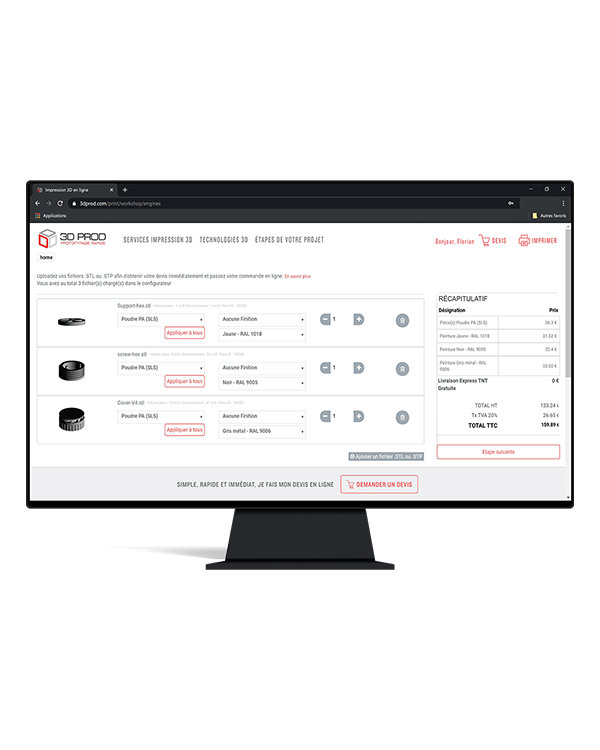 A variety of payment methods
various
We offer a variety of payment options for your flexibility:
By credit card: it is possible to pay your order on a secure platform by credit card (Visa, Mastercard, blue card).
By bank transfer: your order will be produced as soon as the transfer is made.
By check: upon receipt of your check, we will start the production of your piece.
Subscribe to our newsletter
By providing my information, I agree to receive regular emails from 3D Prod. I can unsubscribe at any time through an unsubscribe link or by simple request.
---
---