Digital Light Processing (DLP) technology is now part of our machine park and is making a remarkable entrance!
This new solution offers considerable advantages, such as repeatability, increased precision and optimized productivity thanks to the integration of a semi-automated production line. It also allows for modularity of materials to successfully meet the technical requirements of your projects.
Explore the details of this process with exceptional resolution and finesse.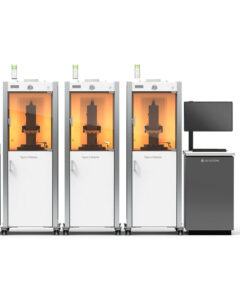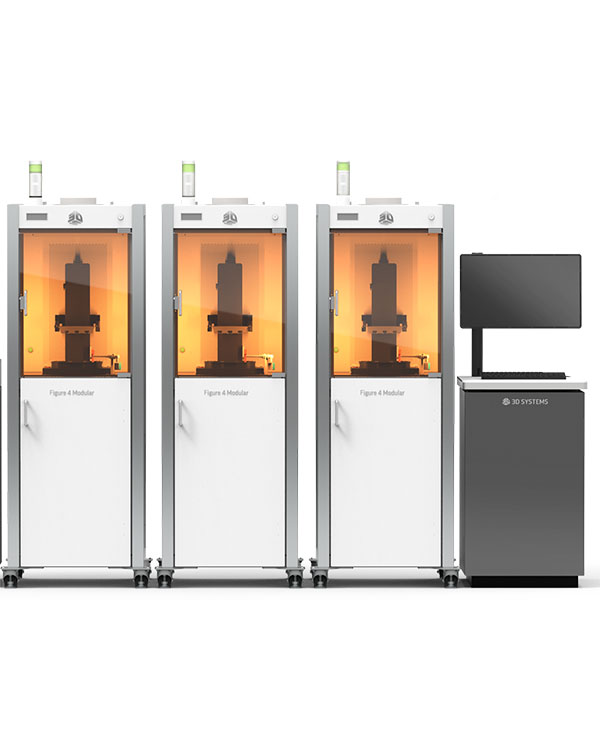 An ultra-fast, scalable and semi-automated additive manufacturing solution that meets the most demanding industrial needs.
Suitable for a variety of industrial applications, DLP technology is particularly suitable for mass production of final parts and for the production of master models.
DLP technology revolutionizes traditional manufacturing methods while offering extremely short production cycles. Inspired by SLA technology, DLP uses the photopolymerization of a liquid resin with UV light. The difference is that the UV light source is a projector instead of a laser. Thus the complete image of each layer is projected in one time allowing to pass quickly to the following layer.
With this approach, DLP technology retains the definitional advantages of SLA, while offering increased accuracy and high production speeds of up to 100 mm/hr for small and medium batch production of your final parts.
It allows you to design accurate, high-resolution models with digital texture quality that rivals that of injection molded parts. Its efficiency allows you to ensure extremely short lead times without losing quality, detail or strength.
Manufacturing volume (xyz): 124 x 70 x 340
Minimum layer thickness: 0.01 mm
Resolution: 1920 x 1080 pixels
A scalable and modular production platform: fully automated, designed for the manufacture of your small series!
The Digital Light Processing solution includes a semi-automated workflow that encompasses print management, centralized post-processing, and material management.
A range of materials with diverse technical properties is offered to meet the specific needs and requirements of industrial fields such as aerospace, medical and engineering.
This selection includes solid and rigid materials, flexible materials, materials with high thermal resistance, materials designed to withstand impact, flame retardant materials that prevent the spread of flames, and biocompatible materials suitable for medical and biological applications.
3D Prod's tip: We have the capacity to propose other resins according to your needs (color, resistance...). Don't hesitate to contact us, our design office will work with you to formulate a customized specification.
We decided to further automate DLP technology to optimize our internal processes and gain speed. To achieve this, we collaborated with SL Diffusion to create a fully automated production line.
This was made possible by the integration of a robotic arm from Universal Robots. This arm will start production and handle the parts throughout the production cycle. At the end of the cycle, the robot unloads the machine and loads an empty tray. Thanks to the system's centralized controller, a new production run can be started immediately while the previous one is directed to the automated post-processing.
The automatic management of the processing flow and the flexibility in the choice of materials make the DLP an ideal tool for small series production.
Thanks to this evolution, we are able to reduce the production time of an already very fast additive manufacturing technology.
A support to match your ambitions.
Our ambition has always been to accompany and guide you in the best possible way in the realization of your prototyping and 3D printing projects. This is why we have specially trained our sales team and ADV to this new Digital Light Processing technology in order to guarantee you a advice as close as possible to your projects.
In order to meet your important production needs, we are able to offer you the privatization of one or more machines for a specific period of time, which assures you an unequalled speed of execution.
Your prototype or mass production ideas come to life in just a few hours, from design to delivery!
Our promise: A shipment within the day for a reception the next day.
3D Prod's tip: Think about the buffer stock! Make your small series in advance, we store them carefully in our premises. Your parts already made, they are ready to use without delay (on request).